The 6 Most Important Social Media Trends of 2017
ocial media—once a competitive, dynamic space—has gotten predictable. Facebook added a hundred million users in a quarter? What else is new? Facebook is in trouble for failing to stop fake news, extremist messages, and child pornography? Par for the course. Facebook shamelessly copied another Snapchat feature? Yawn.
It's all been going on for years. And you'll notice I only brought up Facebook news, since it's now by far the most significant social media player.
In 2016, Facebook accounted for almost two-thirds of all social media ad spending. Expect that share to increase because, according to a recent BI Intelligence report, the network has added a million more advertisers to its already sizable roster in the last seven months.
That said, there are still plenty of important assumptions surrounding social media that make the rounds in marketing circles. eMarketer's latest report on social media, the US Social StatPack, brings some much needed clarity to the space.
Here are six social media trends that marketers should know about.
1. Facebook's mobile transformation is almost complete
Mobile was a huge buzzword a few years ago, but recently it seems like many marketers have forgotten that we're still in the midst of a massive transition away from desktop devices.
In 2012, in the midst of an IPO, Facebook made a concerted effort to transition from desktop to mobile. Five years later, that transition is largely complete. By 2020, eMarketer predicts that 59 percent of U.S. users will access the app only through mobile. And 80 percent of the company's revenue already comes from mobile ads.
It's not a coincidence that the largest internet service in the world is increasingly mobile-only. Add in the fact that most of Facebook's user expansion is coming from the Asia-Pacific region, where mobile-only access dominates, and the company's early focus on mobile seems remarkably prescient. An increase in mobile ad spending should follow, albeit slowly. By 2021, eMarketer predicts that mobile will rise from 24 percent of total media ad spending to 37 percent.
2. Video, the present and future king
Along with mobile, video has become Facebook's latest major crusade. According to a recent Verge article on the troubles of Instant Articles, "the camera is the keyboard" has become "a popular refrain" among Facebook employees. CEO Mark Zuckerberg has repeatedly made clear his intention to transform Facebook to a video-first platform—one executive went so far as to say that the app will be "all video" by 2021. Most of the changes focus on "adopting"—some might say copying—popular Snapchat features such as Live Stories.
Snapchat, meanwhile, has been video-oriented from the start. The company has long classified itself as a "camera company" rather than a social network, which sounds remarkably similar to Facebook's new refrain.
Twitter has emphasized video as well, releasing a native video publisher, integrating live streaming platform Periscope into the app, and purchasing network television deals. Pinterest, likewise, has integrated video throughout its platform. LinkedIn has quietly introduced video features as well, though only for influencers thus far.
Text-based content will stick around, but for marketers hoping to survive on any social platform, it's obvious what format they need to pursue.
3. Social isn't just for millennials anymore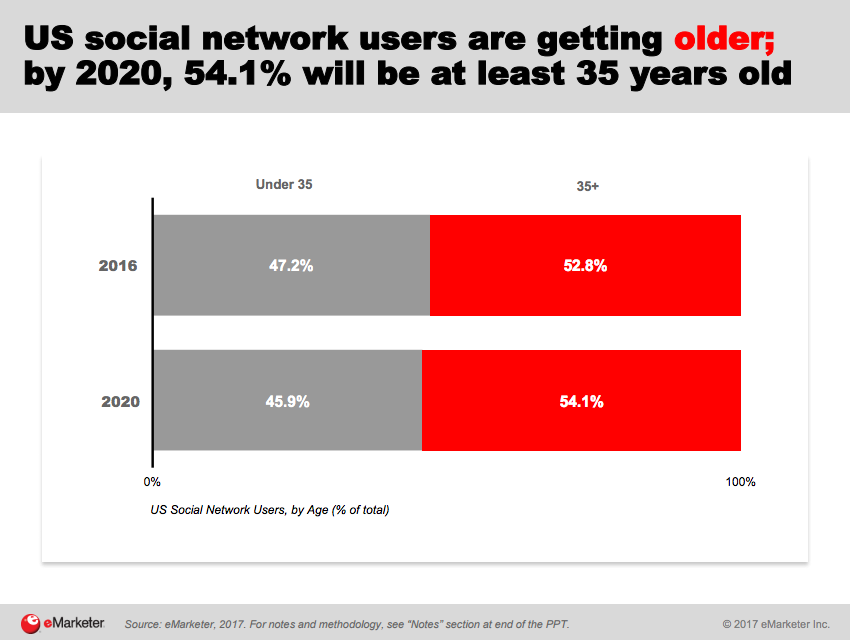 Social media used to just be a playground for the young, wild, and free. Now, platforms across the space are being colonized by older demographics. That's largely thanks to Facebook, where 53 percent of U.S. users are now 35 or older. (On Twitter, the age split is relatively even as well: About 45 percent of users are at least 35.)
Instagram and Snapchat, meanwhile, remain a haven for the young: 69 percent of Instagram users are under 35, as are an incredible 82 percent of Snapchat users. Every platform is expected to get older by 2020, Snapchat and Instagram especially.
4. The line between "internet user" and "social network user" has blurred
If you use the internet, there's a good chance you also use social media. That may seem obvious, but in 2009, only 46 percent of online adults used social media, according to Pew Research. Today, that figure sits at about 70 percent. The rise is largely thanks to those aforementioned Gen Xers and baby boomers, who have flocked to social media services (and the internet at large).
At this stage, social media penetration has plateaued in the developed world. The percentage of social media users to internet users will only increase about 2 percent over the next four years. Now, the focus for social networks is wringing as much money as possible from those users.
5. Average revenue per user is the new focus
While every social platform wants user growth—sans maybe Snapchat, who is too cool for user growth—growing average revenue per user (ARPU) has actually become the new metric of choice to gauge success.
Facebook, for example, has boosted its ARPU from $13.7 to $19.81 in just one year. Snapchat, likewise, has promised investors that growth per user (not user growth) will provide returns. The company bumped its ARPU from $0.67 to $2.15 in Q4 2016. Twitter saw its ARPU decline in 2016, a sign of the platform's poor fortunes.
Marketers should be happy that growth is now more about building value from each user rather than growing the entire user base. While brands may have to pay more to promote as ARPU rises, social platforms will need to justify higher prices with better targeting, more ad slots, and improved features.
6. Martech dollars are flowing into social
As social takes over, marketers across industries are taking the platforms seriously. Money is beginning to flow more to software that promises to organize, optimize, and manage a brand's social presence. According to a study on the state of marketing technology by Walker Sands, a PR firm, marketers plan to purchase social media software more than any other type of marketing technology in 2017.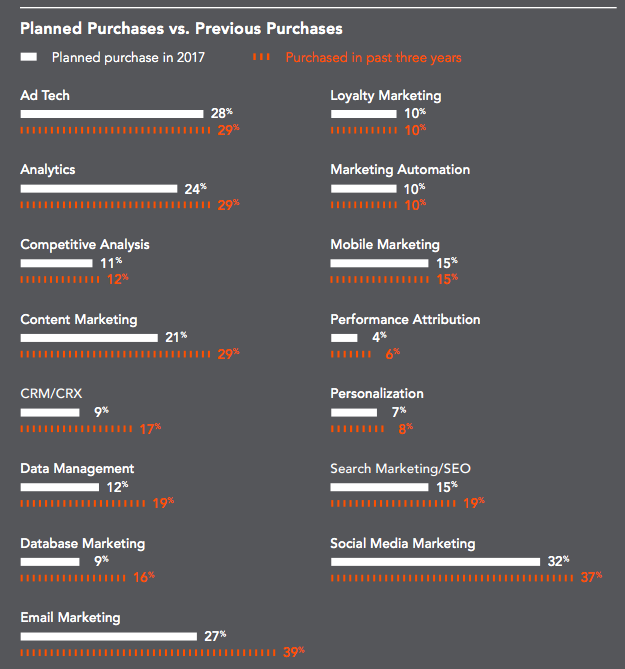 The market for social media software is evolving as well. Sprinklr, perhaps the biggest player, recently rebranded itself as a "customer experience cloud." The move, which is a reflection of the increasing importance of customer experience, demonstrates how marketers are viewing social media as more than just content distribution channels. The emphasis is becoming about software that can manage relationships with customers. Even if social media is predictable at the moment, that martech investment could make the space more interesting in the next few years. Because whether you're advertising, marketing, or providing customer service, platforms like Facebook will do everything they can to be a marketer's best friend.
Fonte: Contently 
Por: Dillon Baker