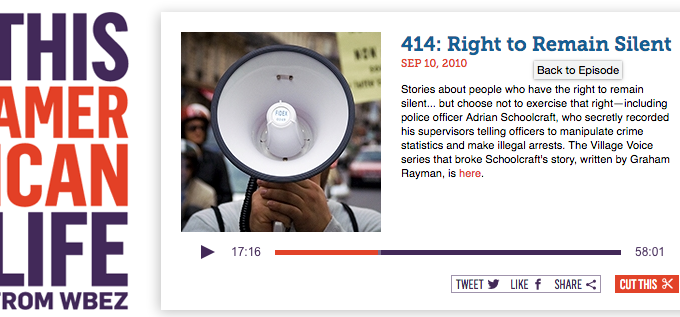 Data journalism on radio, audio and podcasts
In a previous post I talked about how data journalism stories are told in different ways on TV and in online video. I promised I'd do the same for audio and radio — so here it is: examples from my MA in Data Journalism to give you ideas for telling data stories using audio.
As with any audio post, This American Life features heavily: not only is the programme one of the best examples of audio journalism around — it also often involves data too.
Right To Remain Silent is one particularly good example, because it's about bad data: specifically. police who manipulated official statistics.
You might also listen to Choosing Wrong, which includes a section about polling.
Another favourite of mine is an audio story by The Economist about the prostitution industry, based on data scraped from sex trade websites: More bang for your buck (there are even worse puns in the charts).
David Rhodes, a BBC data journalist, has a range of stories on his Audioboom account, including pieces on Radio 4, Radio 5 Live, and this piece from the excellent factchecking radio programme, More or Less.
In podcasting this episode of The Allusionist tells a story about an experiment with data and dating.
Finally, I have to include an episode of Radiolab, one of my favourite podcasts. Shots Fired — which is split into two episodes — employs the common approach of interviewing the journalist who undertook a data-driven investigation (in other words, hooking the story on the journalist's 'quest'). It's embedded below. For a geekier trip, try their podcast about Benford's Law.
Podcasts about data journalism
There are also many great podcasts about data itself — one of my former students compiled a list for GIJN:
Fonte: Online Journalism Blog
Por: David Rhodes